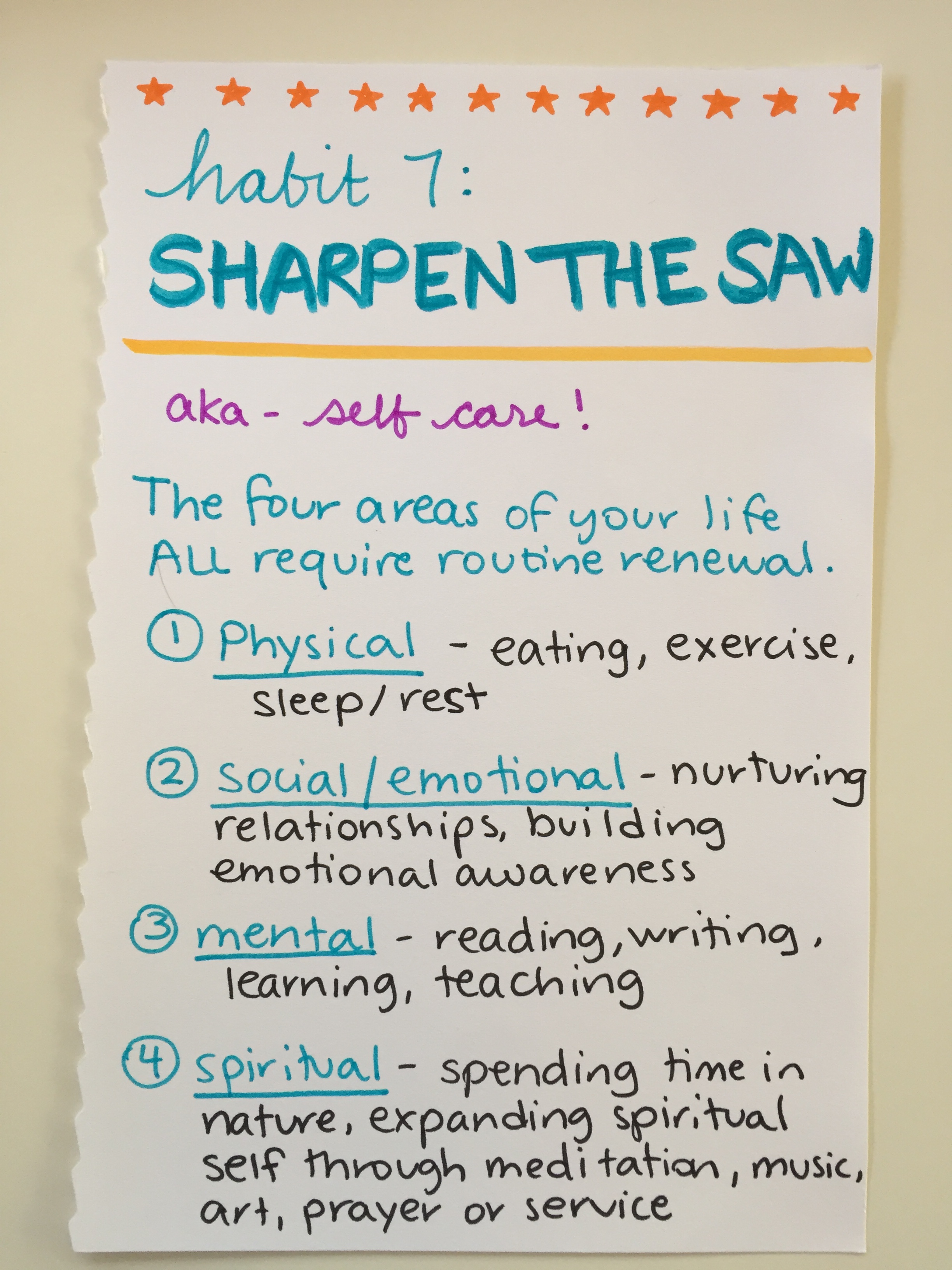 The final habit! I've been posting this week about THE 7 HABITS OF HIGHLY EFFECTIVE PEOPLE, and today we're on Habit 7: Sharpen the Saw.
Habit 7 is basically about self-care, so it fits in really well with the work I do with so many of my clients. The main point Covey makes with Habit 7 is you won't be able to accomplish much of anything in your life if you neglect yourself. It's important to think about self-renewal across these four areas:
🥑  Physical – eating, exercise, sleep, treating medical issues promptly
💙  Social/emotional – nurturing relationships, building awareness of emotions
📚  Mental – reading, writing, learning, teaching
☮️  Spiritual – expanding spiritual self through meditation, music, art, prayer, or service
You can neglect one or more of these areas, but at your own peril. There's only so long you can keep up with a busy life if you are falling apart on the inside or your relationships are a mess. There's a myth in our culture that devoting time to self-care and self-improvement is a luxury, or is selfish, but it's the exact opposite. 👀 We are more likely to become selfish and inconsiderate and insensitive if we don't take responsibility for our own health and wellbeing 👀
A lot of people hit times in their lives when they need some help getting rebalanced. Many of my clients need a place where they can JUST BE for awhile, where they can hash out what's creating stress and then together we can figure out a plan. There's always another way, but we can often be blind to possible solutions because we are too tired or too burned out, or simply too close to the issue to see our way through. That's where therapy comes in!
If you've enjoyed these posts I'd love to hear what resonated most! Which habit is your favorite? Comment below or send me an e-mail at dobbi[email protected]. For more good reads, sign up for my (spam-free 
) e-mail newsletter here: http://pxlme.me/YVYdNEl4.